GRAPHENE
What is Graphene?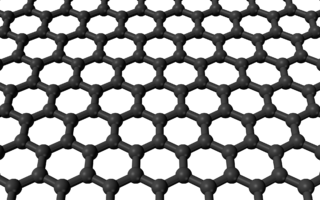 Graphene is a single-layer carbon polymer.
Graphene is made of pure carbon. It is a material in which the carbon atoms are arranged in a single layer, creating a honeycomb pattern. It should be stressed that this layer of carbon is only one atom thick, although some authors consider up to ten layers of carbon to be graphene. If we stacked ten or more graphene layers onto one another, the resulting substance would be called graphite, which is what we use in pencil leads.
The term graphene was coined by Hanns-Peter Boehm. Some scientists refer to graphene using the phrase "zero band-gap semiconductor". Spelling variations such as grafene and graphen are incorrect for use in English, although they might be valid in other languages.
If you are interested in making your own graphene, read up on how to make graphene. If you've already heard about making graphene with a Lightscribe DVD drive but need some graphite oxide as a starting point, jump to the section on how to make graphite oxide. If you would like to invest in graphene or a graphene-related technology, take a look at How To Invest in Graphene.
Graphene discovery
Graphene was theoretically predicted by Phillip R. Wallace in his work named "The Band Theory of Graphite", published in Physical Review in 1947. Graphene was discovered in 2003 by Andre Geim and Kostya Novoselov at The University of Manchester, and results were published in 2004. For this work, they have been awarded the 2010 Nobel prize. To clarify this, even though graphene was successfully grown on various single-crystal substrates since the 1970s, it wasn't until 2003 that graphene was finally isolated in free-form. It is interesting to know that they used ordinary sticky tape to produce small quantities of graphene. This is very significant, because the electrical and physical properties of graphene are considerably different when it is in free-form state as opposed to being bound to a supporting crystal structure.